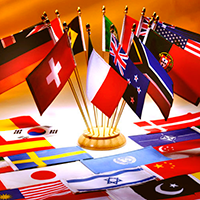 The Faculty of Foreign Languages was founded as Philology Faculty on 12 July, 1930. At present, it is a prestigious centre for training future teachers of foreign languages and literature as well as translators/interpreters in the southern region of Ukraine.
The Faculty offers postgraduate and doctoral training programmes; there is a Specialised Academic Council for defending candidate's theses.
The Faculty consists of:
The Department of Germanic Philology and Methods of Teaching Foreign Languages;
Translation, Theoretical and Applied Linguistics;
Western and Oriental Languages and Methods of their Teaching.
9 Doctors of Sciences, professors and almost 50 Candidates of Sciences, associate professors are working at the Faculty.
The Faculty organises numerous international scientific forums and projects. The lecturers and students study topical issues of philology, translation studies, methods of teaching languages and literature.
Scholar schools established by the professors R. Yu. Martynova (corresponding member of the National Academy of Educational Sciences of Ukraine), T. M. Korolova, O. M. Obraztsova, T. Ye. Yeremenko and others are widely known in Ukraine and abroad.
The lecturers facilitate students' mastering the English, German, Turkish, Chinese languages and provide general humanitarian linguistic training for all the university students.
Foreign lecturers from the USA, Germany, Turkey, China and other countries are engaged into the educational process of the Faculty. There are educational research and information centres of Korea, Turkey, Israel, the USA, and Confucius Institute (People's Republic of China).
Students of the Faculty have an opportunity to undertake an internship in many countries of the world. They are participants and winners of numerous international and domestic academic competitions and contests.
The educational process is aimed at students' acquisition of contemporary moral, ethical and linguo-cultural values and their professional development as philologists.  
The Faculty address: 34, Staroportofrankivska Str., Odesa, Ukraine, 65020.
Telephone: +38-048-732-59-95.
---
Departments
The Department of Translation, Theoretical and Applied Linguistics
The Department of Translation, Theoretical and Applied Linguistics was founded in 2002.
The academic staff consists of 13 members, including 2 Doctors of Science, professors and 7 Candidates of Science, associate professors.
The department provides professional training in Speciality 035 Philology, Bachelor's and Master's degrees.
The range of academic interests of the staff of the department covers General, Typological, Comparative and Applied Linguistics, Translation Studies.
The Department offers a PhD postgraduate training program and is accredited for defending PhD theses.
The department contributes to academic publishing. The collection of scientific works "Scientific Research Issues of South Ukrainian National Pedagogical University named after K. D. Ushynsky: Linguistic Sciences" is published twice a year. The collection of scientific works highlights the actual issues of Linguistics, presents a wide range of scientific research achievements of domestic and foreign researchers. The collection is included in the list of scientific professional editions of Ukraine.
---