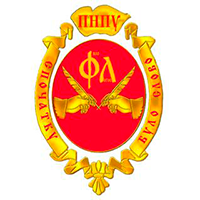 The Faculty of Philology with its rich traditions and qualified teaching staff is one of the youngest at the university. It originates from the Faculty of History and Philology, where more than 1,000 qualified specialists were prepared over the period of its existence. The history of the Faculty is associated with such famous writers and researches as S. I. Oliinyk, R. M. Volkov, S. S. Dlozhevsyi and others.
The Faculty prepares teachers of the Ukrainian language and literature, Russian language and literature with the specialisations in the English language and literature and Ukrainian studies. Students gain professional experience in the course of practical training at leading educational institutions. Having graduated from the Faculty students can work as teachers of the Ukrainian, Russian and English languages, Ukrainian and foreign literature as well as work in mass-media sphere (as journalists, broadcasters, radio and TV presenters), translators/interpreters, translators/interpreters-consultants, civil servants.  
Upcoming trends in the Faculty's international collaboration is internationalisation of educational and research activity, development of scholar schools, cooperation with European institutions, organising international research conferences, academic competitions, contests, festivals, summer schools; participating in scientific and educational associations, academic and cultural exchanges.
Teaching staff of the Faculty implement actively new teaching forms and use innovative technologies. They work on educational process modernisation and research activities. Theoretical and practical training is provided by the qualified teaching personnel including 6 Doctors of Sciences, professors, 29 Candidates of Sciences, associate professors. A widely known scholar school established by professor V. P. Drozdovskyi has been developed by some of his successors, such as Doctors of Sciences and professors M. Kh. Humennyi, O. A. Kopus and others.
Work with gifted youth is an important part of the Faculty life. Time after time, the Faculty students participate in research and practice conferences, win academic and creativity competitions. The Faculty has drama school, literature school "KOMA", humour competition team (KVN) called "Narecheni U"; "Andriivski vechornytsi" (traditional gatherings with music, songs and jokes), Shevchenko's readings, game shows, national Ukrainian holidays are organised. The Faculty students have become winners of "Student Autumn Festival" for many times.     
The Faculty address: 34, Staroportofrankivska Str., Odesa, Ukraine, 65020.
Telephone: +38-048-721-69-32.
E-mail: This email address is being protected from spambots. You need JavaScript enabled to view it..