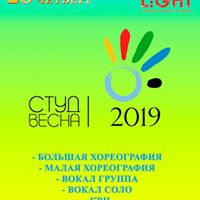 March 28, 2019, an annual competition "Student Spring" was held in the entertainment complex Palladium, the participation of which was attended by the students of Odesa higher education institutions. The competition provided for five main nominations: solo vocal, band vocal, small choreography, great choreography, and KVK ("Club of the smart and the merry"). The honor of Ushynsky University has been defended by the students of the Faculty of Music and Choreography who took prize-winning cities in almost all categories:
"Solo-vocal": I  prize - Bogdan Renk (class of O. A. Mamikina);
 II Prize - Lai Te (class of A.I. Ghodot).
"Gurto-Vocal": The First Prize is a duet by Bohdan Renk and Viktoriya Dimitrova (class of O. A. Mamykina);
 III Prize: ensemble of students of the 4th year (supervisor Ye. M. Bondar).
"Great choreography": II prize - choreographic ensemble "Orhestra"  (supervisor N. Yu. Lisovska).
Congratulations on the victory to our talented creative youth! Happiness to you, creative inspiration, and new bright victories!