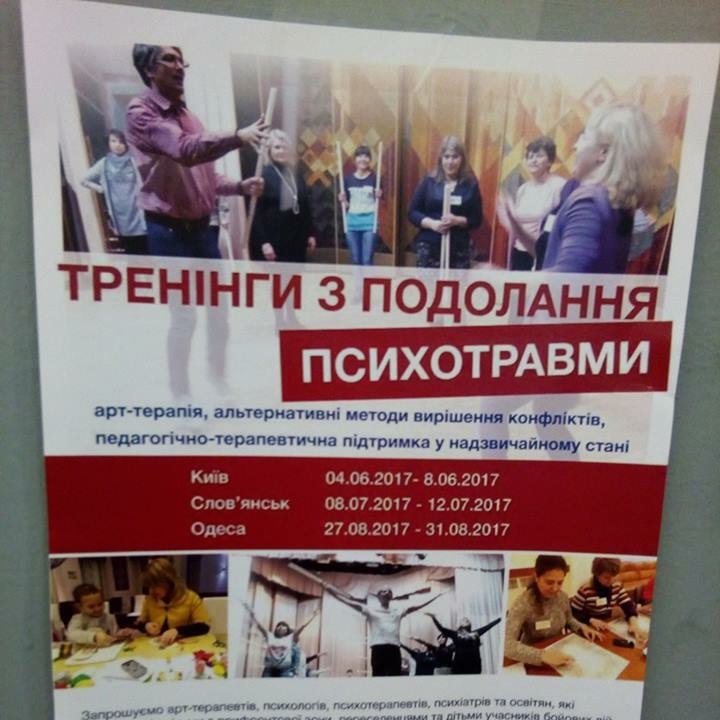 August 27-31, a training workshop on art therapy and conflictology "Pedagogical and therapeutic work with children and adolescents traumatized by war" with the leading specialists of the stART-international e.V. (Germany) for 120 volunteers, psychologists and educators took place in Odessa on the basis of South Ukrainian National Pedagogical University named after     K. D. Ushynsky.
This event was organized within the framework of the project "Overcoming psychostimulation and prevention of PTSD in children and adolescents for the future of Ukraine" by "Europe without Borders" Society in cooperation with the Association of Art Therapists of Ukraine and "Rehabilitation Center of St. Paul" supported by Deutsche Gesellschaft für Internationale Zusammenarbeit (GIZ) GmbH and on behalf of the German Government.
The specialists are: Francesco Coccarto (MSc in Intercultural Communication, Master of Economics and International Policy, since 2008 – he has been working with refugees within the framework of the stART project, responsible for programs abroad, Susanna Endrejecca (a school teacher with a seniority of over 25 years, a teacher at various educational institutions, mathematician, eurythmist); Carolina Glas (pre-school teacher with more than 30 years of experience, teacher, in particular in foreign educational institutions), Uwe Mollnitz (a scientist in economics and political science, a mediator, a mediator, a coach) and others.
Last Updated: Sunday, 17 September 2017 11:56