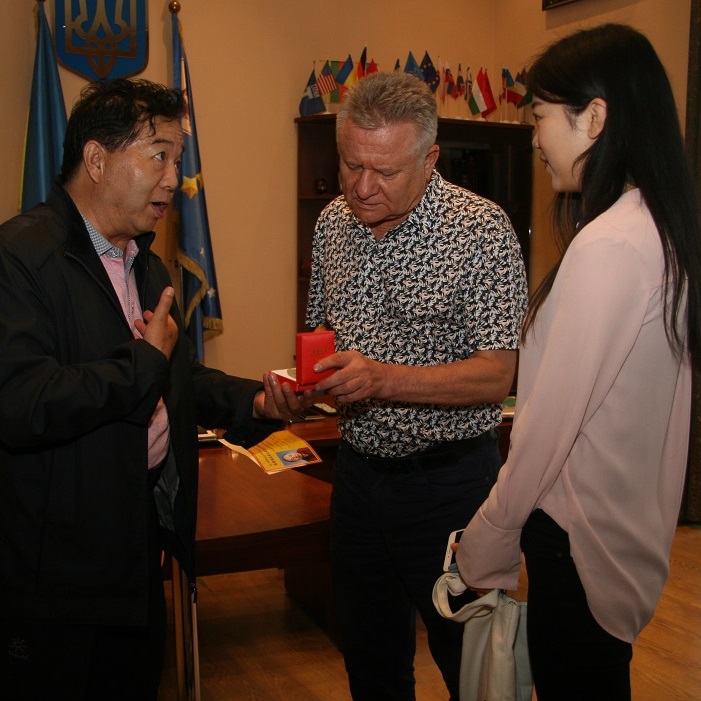 September 18-19, 2017, the representatives of mass media from the People's Republic of China visited South Ukrainian National Pedagogical University named after K. D. Ushynsky during their visit to Odesa.
During the meeting with Academician O. Ya. Chebykin, the Chinese journalists' delegation was headed by Mr. Cai Zheng, President of the Association of Photo conferences of the Province of Tsinghai. The foreign guests had an opportunity to get acquainted with the main directions of Ushynsky University, the state of international cooperation with the higher educational institutions of the Celestial Empire, the realization of academic mobility programs, study of the Chinese language and culture within the framework of the project "Educational and Cultural Center "The Confucius Institute", features of professional training of students, which came from China to study and future employment of the alumni and their return to the country.
The students and trainers of the Faculty of Music and Choreography of  Ushynsky University, headed by Dean N. K. Bilova, prepared for the guests from the PRC a concert presentation of the creative achievements of the participants in the educational process, told about the professional achievements of graduates who successfully work at leading universities, theaters, educational centers of Beijing, Gongzhou, Harbin, Shanghai and other cities of the People's Republic of China.
Last Updated: Saturday, 23 September 2017 17:49