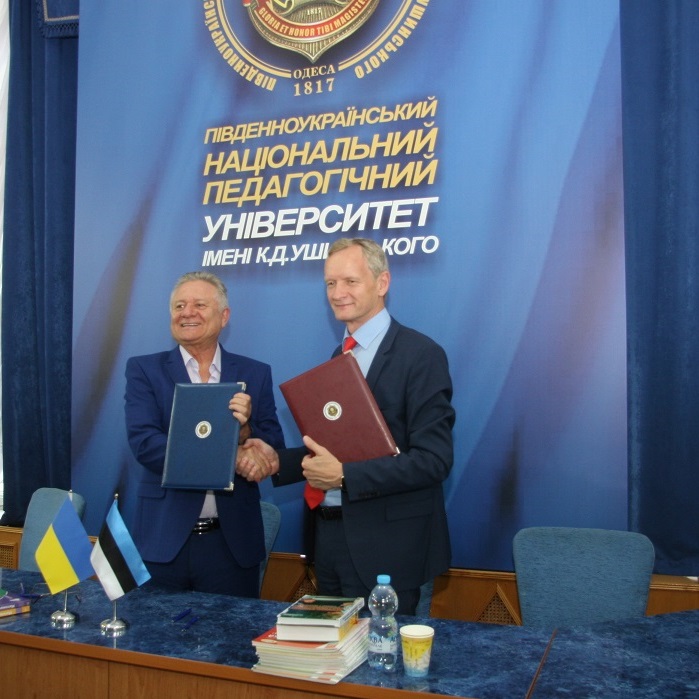 Within the framework of international cooperation on September 25, 2017, South Ukrainian National Pedagogical University named after K. D. Ushynsky was visited by the chairman of the Union of Rectors of the Universities of Estonia, the Rector of the University of Tallinn, Professor Tiyt Land.
The University of Tallinn was founded in 2005 and is currently the largest humanities hub in Tallinn and the third largest state-owned institution in Estonia with more than 9,000 students and more than 400 researchers and teachers. Over the past 10 years, the University of Tallinn has substantially expanded the range of specialties for which higher education graduates are trained.
At the meeting with the rector of the University of Tallinn, Professor Tiyt Land, Ushynsky University was represented by leading scientists and the Rector, Academician O. Ya. Chebykin.
During the event, the representatives of Ushynsky University presented and identified the priority of interdisciplinary areas of international cooperation with the university centers of Estonia, namely: educational innovations and standards, digital culture, adaptive mechanisms of students' personality in the process of internalization of higher education, cross-cultural trends and transformations of society in European countries, health-saving technologies and others. Ukrainian scholars were invited by the Estonian side to organize and conduct joint scientific forums, seminars, round tables; participation in international mobility programs ERASMUS +; preparation of scientific projects, etc.
During the meeting, an agreement was signed on academic cooperation between Ushynsky University and the University of Tallinn.
Last Updated: Saturday, 30 September 2017 10:27