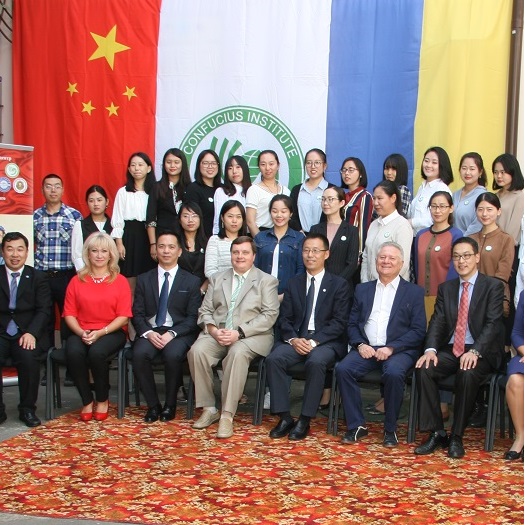 September 25-26, 2017, a delegation from Harbin Engineering University visited South Ukrainian National Pedagogical University named after K. D. Ushynsky.
The scientists from the People's Republic of China took part in the reporting conference on the results of the Educational and Cultural Center of "Confucius Institute" at Ushynsky University in 2016-2017, as well as in the ceremony of the creation of the Association of Alumni of the International Program of University Partners for the Study of the Chinese Language and Culture.
The Chinese side participated in the events: the rector of the Harbin University of Engineering, professor Yao Yu, head of the international department, Liu Ziqiang, deputy head of the Alumni Association Guo Fang, Professor of the Institute of Communications Guo Qiang, Associate Professor of the Institute of Economics and Management Gao Tianmin, co-director of the Confucius Institute Associate Professor Din Xin.
The Ukrainian side was represented by: Rector of the University of Ushinsky, academician    O. Ya. Chebykin, vice rector for international relations and scientific and pedagogical work of the complex, assistant professor A.M. Ananyev, rector's assistant professor A.V. Muzychenko, chief accountant R. L. Kondratieva, head of the department of physics, coordinator of international scientific projects professor O. R. Gokhman, professor of the department of physics V.V. Golovanov, associate professor of the department of physics V.K. Zhukovsky, co-director of the Institute of Confucius, assistant professor O.V. Popova.
The event was started with a welcoming speech by academician A. Ya. Chebikin and professor Yao Yu, partner universities.
The co-directors of the Confucius Institute Educational and Cultural Center of Ushynsky University O.V. Popova and Din Xin presented the annual report on the implementation of the tasks of the international project for 2016-2017.
Within the framework of the work of the scientific platform, Professor O. R. Gokhman informed participants about the results of the implementation of the objectives of the Memorandum of Understanding on joint projects in the field of natural sciences concluded with Harbin Engineering University. The leading scientists of the department of physics professor V.V.  Golovanov and associate professor. V.K. Zhukovsky presented new directions of scientific collaboration of partner universities.
During the forum the ceremony of the foundation of the Confucius Institute Association of Ushynsky University and Harbin Engineering University was held. On this occasion, the students of Ushynsky University and the students of linguistic and cultural training organized a presentation of their creative achievements.